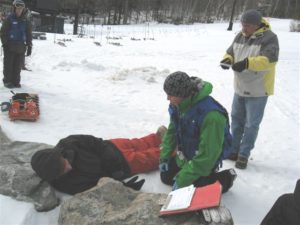 Greetings,
The New Year has begun, and our mountains are all running. While Maine is looking for a YAP advisor, I have agreed to fill in. Over the past 20+ years I have been involved in the student program both regionally and on the Division staff. Each year the Eastern Division has sponsored a Student Seminar where students from all over the Eastern Division have gathered for clinic and competition. For many years, the students of Maine were at the top of the awards given for excellence in OEC, Assessment and OET. Check out the following videos to see last year's event and the impact that the program has on the youth of NSP. https://www.nspeast.org/yaptube.html. If you have any teens that would like to attend let me know and I can get you details.
When you consider that the average age of patrollers is 56, we need to look at young adults to pick up the mantle. Many have struggled with the time investment in training young adults who go off to college and do not return to their mountain to patrol. I can say that history has shown that many have remained at their mountain and have assisted during vacation weeks when more patrollers are needed.
Usually it is the children of patrollers that are the ones that join ski patrolling and invite their friends to come along and we have ebbs and flows of young adults on our patrols. For several years, Shawnee peak went to the local high school and recruited teens to come check us out. Many of these youth are still on patrol and have made a great contribution to our mountain.
I would be glad to visit with you to discuss how you can begin a YAP program at your mountain. Students taking the OEC can often get school credit as well as credit for volunteering at the mountain. I can be reached by email or phone (934-5681) to schedule at time to discuss the program.
Dan Pascucci
Maine YAP Advisor.