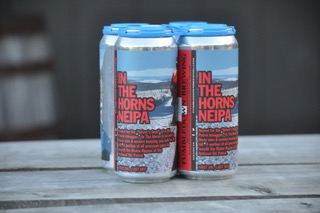 Maine Patroller Brews Winning Combination
After wrapping up their "In The Horns Fundraiser", Tumbledown Brewing's Co-Owner and Head of Operations Matthew Swan presented Maine Region Ski Patrol Director Wayne Arsenault a check for $3,500.00 to help defray the expenses of the Young Adult Patroller Program [YAP] in the area. The proceeds came from the sale of their In The Horns IPA this winter. For those who have never had the joy of taking a ride down a ski hill in a Ski Patrol toboggan, 'In The Horns' is a reference to the position a Ski Patroller takes when piloting such a contraption. "Tumbledown Brewing donated one dollar per can sold, and in addition to that donation, I was able to get matching support from local businesses Skowhegan Savings Bank as well as Kyes Insurance", Swan said.
The donation will go a long way in helping to cultivate the YAP Program within the Maine Region. "We want to use this money to help young adults who aspire to become Ski Patrollers but may need assistance doing so. The funding will be used for course materials as well as uniforms to get these individuals on their way to gaining valuable job experience on the hill", said Arsenault. "We want to give them the opportunity to see what being a Patroller is like. And, hey, if they try the course and decide it's not for them then we can pass on those materials to another young person who is interested. We are just trying to make it possible to introduce ski patrolling to any kid who wants to try."
This is the second year that Tumbledown has held the fundraiser. Last year they raised around $2000 for the Saddleback Ski Patrol through the sale of In The Horns. This year Swan decided he wanted to have a greater impact in the State and donated the fundraiser's proceeds to the Maine Region of the National Ski Patrol. He has hopes of continued growth for the fundraiser. "Yes, I want this to be an annual donation and I hope to be able to give more money each year", said Swan.
The brewery partnered up with Hop & Stuff, Maine Malt House, and Blue Ox Malt House, as each supplier donated a certain type of malt used in the beer. Yakima Chief Hops donated the hops for the beer, which can be described as a smooth, hop-forward hazy IPA.
Swan, who is married and has two small kids, started patrolling in 2007 at Saddleback Mountain in Rangeley, Maine. He found a lot of comradery when he first put on his vest. "Ski Patrol is like a big family to me", he said while sitting outside of Tumbledown Brewing on a recent spring evening. "I wanted a way to give back to the patrol and I thought that the YAP program would be a great way to help out. I hope that my kids show an interest in patrolling in a few years".
For more information check out their website: tumbledownbrewing.com and check them out on Facebook and Instagram.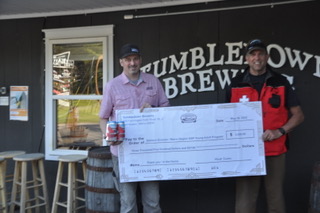 ===================================================================